Member & Employee of the Month
Each month, we are proud to recognize YMCA of the Collier County members and employees who have served the Y's mission in an exceptional manner. These individuals work passionately and tirelessly to provide our community with the opportunity and support for youth development, healthy living, and social responsibility.
---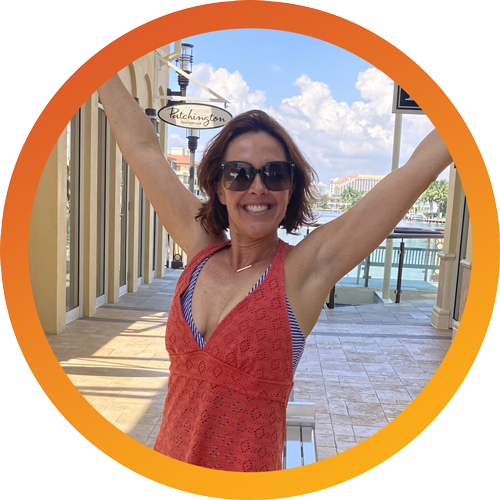 July 2023: Jennifer Jacob
YMCA Member of the Month (North Campus)
In Jennifer's own words, it was the sparkling clean and welcoming facility that drew her in to the YMCA. But it's not just about the facilities - it's the amazing community involvement and programs the Y offers, giving everyone opportunities to give back and volunteer.
When it comes to activities, Jennifer is all about the fitness classes. And her favorite Y memories? Making lifelong friendships and enjoying the lively music-filled atmosphere. The Y has had a tremendous impact on Jennifer's life, keeping her motivated to stay healthy and active.
Jennifer, thank you for being an awesome member of our Y family! Your commitment to our community is truly remarkable, and we're incredibly grateful for you! Keep shining your light and making a difference!
"I love the Y and proud to be a volunteer too!"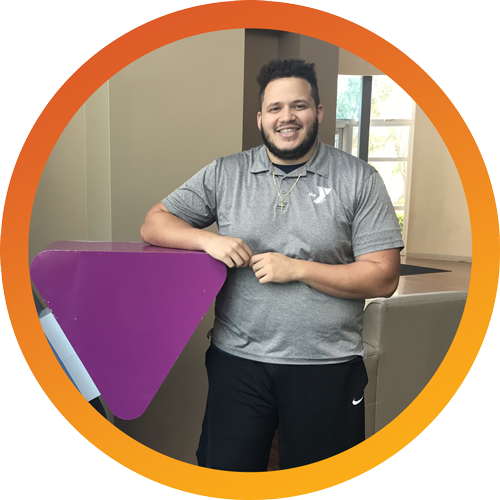 July 2023: Johnny Adames
Membership Representative (North Campus)
Since 2019, Johnny has been a dedicated member of our Y family. He started off as a volunteer and quickly became an invaluable part of our membership team.
When it comes to activities at the Y, Johnny is all about adult sports, especially basketball. He loves the comradery and competitiveness that comes with it.
The Y has had a profound impact on Johnny's life. Not only has it provided him with a fantastic place to work, but it has also given him a strong sense of community and amazing coworkers.
To anyone who hasn't experienced the Y yet and is interested in joining, Johnny has this to say: "the YMCA offers so many options to help you stay healthy. Plus, there's a great sense of community."
June 2023: Bradford Family
YMCA Members of the Month (North Campus)
After relocating from New York to Naples, the Bradford's turned to the Y as a way to stay active and engaged in the community. They've tried all sorts of activities, but their absolute favorite is the youth sports program.
Why do they love it so much? Their kids have developed a strong love of team sports, gained valuable life skills, made new friends, and really become a part of the Y community. And as parents, they've watched all the young athletes grow, develop, and succeed season after season.
But the Bradfords don't just participate, they give back too. Shariff Bradford generously gives his time to mentor young athletes and even donated equipment to our youth basketball program!
When asked what they love about it, they said, "Our kids have learned the value of teamwork and important life skills. They've also made new friends and feel a real connection to the YMCA community!"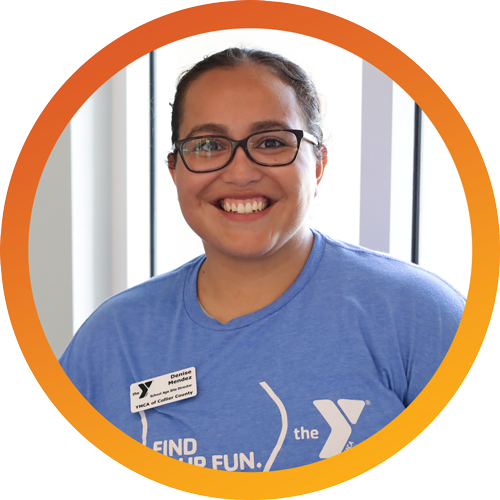 June 2023: Denise Mendez
South Campus School-Age Site Director
Denise is an enthusiastic and exuberant childcare professional who joined the Y five years ago with a goal of gaining experience in childcare. Fast-forward to present day, and Denise has learned and achieved so much more than she ever expected. With her bubbly personality, she loves spending time with kids from the Early Learning and School-Age programs at the Y. Making memories that last a lifetime is one of her favorite parts about the job. Whether it's participating in the Marco Island Christmas Parade with the afterschool kids or celebrating with families during the Giving Tree dinner, Denise is sure to have a smile on her face when doing anything for the Y community!
She treasures every opportunity she gets to be a helping hand and is grateful for all that the Y has taught her throughout these past five years.
When asked how the Y has impacted her life, she stated, "The Y has allowed me to grow personally and has given me many opportunities to be a helping hand in our community which I am very grateful for."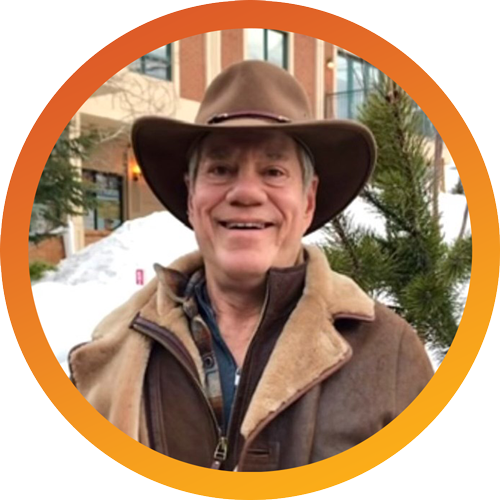 May 2023: Michael Montgomery
YMCA Member of the Month (South Campus)
Michael's roots with the YMCA started when he was 9 years at the Decatur Family YMCA in Georgia. Today, Michael is an active member at the South Campus where he enjoys taking classes, swimming, playing pickleball and tennis, and volunteering.
Michael volunteers every Sunday morning for the Y's Bread Run, an activity he has made his regular routine. "The bread run on Sunday mornings has been my custom for a few months. It feels good getting out to help people and see the people we serve."

When asked what she loves about the Y, he stated, "The social aspect of the Y cannot be underestimated. I have met so many good friends. This is my routine, 8 o'clock in the morning at the Y and on my bicycle."

We are so grateful for continued dedication to our community and are proud to have him as part of our Y family!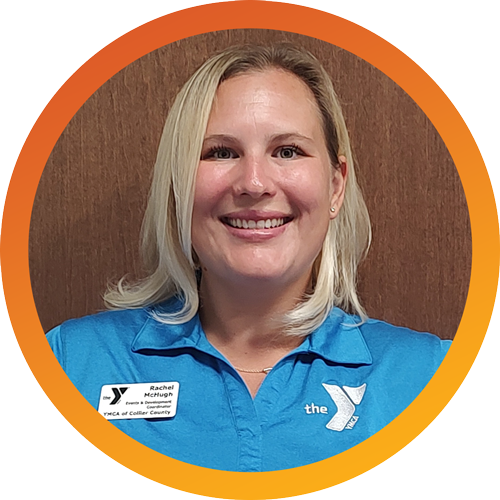 May 2023: Rachel McHugh
Event & Development Coordinator
Rachel, born and raised in Naples, has been working with the YMCA for a little over a year. From the start, Rachel stepped into her role and immediately made a positive impact in the Development Department. It is not easy to plan one event, let alone six, but Rachel was never deterred or shaken. In fact, quite the opposite. She took on the responsibility and rose to the challenge. Six successful events later and Rachel continues to champion the YMCA mission and values with her positivity, enthusiasm, and passion.
When asked how the Y has impacted her life, she stated, "The YMCA has provided a place to personally cultivate my purpose. Not only has it helped me grow in many ways, but so has my family."
Fun facts about Rachel: As a young girl, she would visit the Y to meet with friends, take swim lessons and play sports. Rachel and her husband John, have two children (Conlon and Theodore), both of which are following mom's footsteps in participating in Y programs.
---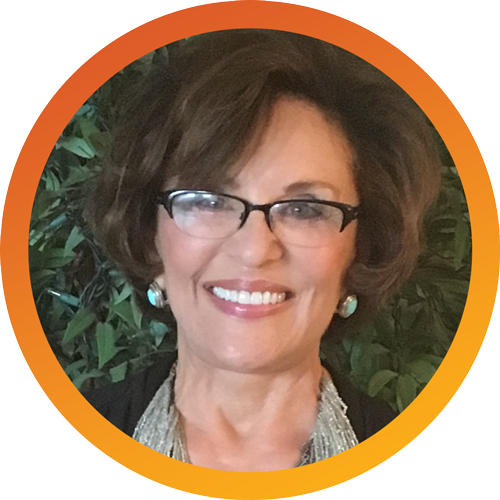 April 2023: Sharon Lewis
YMCA Member of the Month (South Campus)
Sharon has been volunteering at the YMCA (South Campus) since 2018. Some of her memorable moments include assisting members in our Parkinson's programs and being part of the YMCA's Healthy Living Specialists, a group that provided healthy meals and lectures on living healthy. Currently, you'll find Sharon volunteering with special events.

Volunteering is not the only thing about the Y she enjoys, she loves taking classes regularly and playing pickleball at the Y.

When asked what she loves about the Y, she stated, "The YMCA is a wonderful organization that gives back to the community in so many ways!"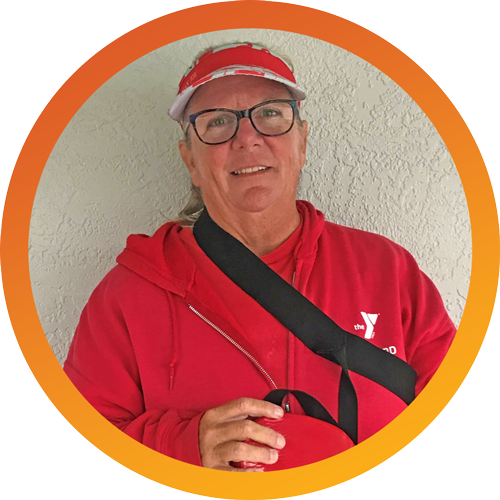 April 2023: Kara Schuh
Lifeguard & Swim Instructor (North Campus)
Kara has been a member of the North Campus team for the last 2 years, and previously, as the Aquatics Director at the Sheboygan YMCA for 28 years. You will see Kara on the pool deck every morning Monday through Thursday. She truly enjoys teaching swim lessons and lifeguarding at the Y.
When asked what her favorite part about working at the Y is, she stated, "I love meeting new members and working with the members who come back to the Y day to day."
Fun facts about Kara: Kara enjoys going to the beach, listening to music and hanging out with friends.
---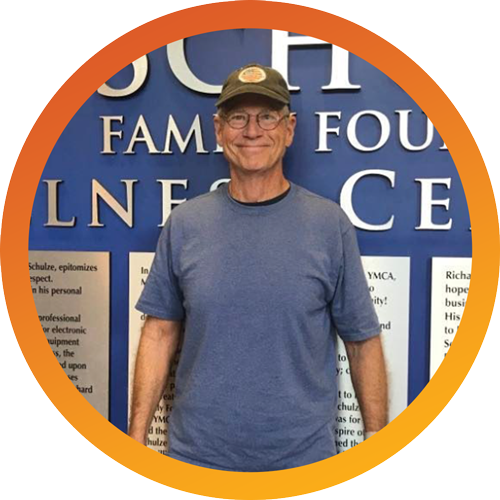 March 2023: Norm Tiller
YMCA Member of the Month (North Campus)
Norm is a regular at the YMCA (North Campus) and enjoys weight training, swimming and pickleball. Despite dealing with a chronic condition that affects his leg strength and balance, Norm is an avid pickleball player at the YMCA. Due to an increase in beginning pickleball players in our program, and seeing a need to help players, Norm offered to volunteer his time to help new players feel welcomed and learn the sport.

When asked what are some of his favorite Y memories, he stated, "I love meeting others and establishing friendships...the Y is a great place to meet new friends!"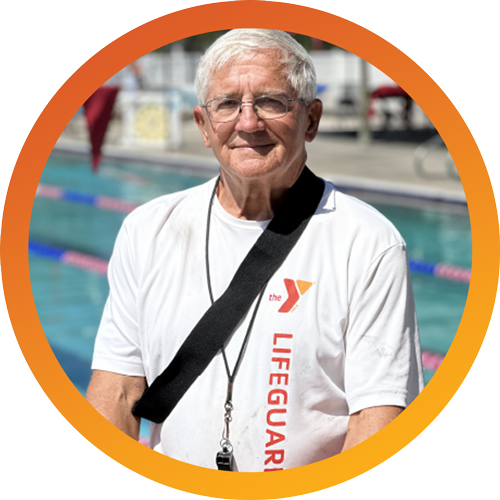 March 2023: Philip Wanzenberg
Lifeguard (South Campus)
Phil has been a valued member of our South Campus team for 9 years. When asked what his favorite part about working at the Y is, he stated, "Connecting with my other staff members, and especially, getting to know the members who come to the aquatic center, aka the pool".

Fun facts about Phil: Phil enjoys boating, fishing and playing cards. He is a member of the Marco Island Civil Air Patrol, was the editor of the Marco Sport-fishing Club newsletter for 6 years and is active in addressing water quality issue in the waters surrounding Marco. And of course, loves swimming as much as possible.
---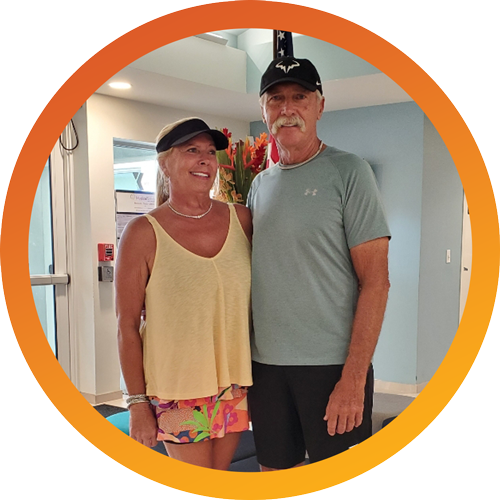 February 2023: Ginger & Bill Miller
YMCA Members of the Month (South Campus)
Ginger & Bill Miller are both extremely active throughout our community and the YMCA. You will regularly see Ginger & Bill playing tennis at the Y and giving back to our community by volunteering and donating.

In the aftermath of Hurricane Ian, Ginger & Bill really stepped up to support our community. They were willing to give their time and made countless trips from the Y to deliver supplies to those in need.

We are so grateful for continued dedication to our community and are proud to have him as part of our Y family!