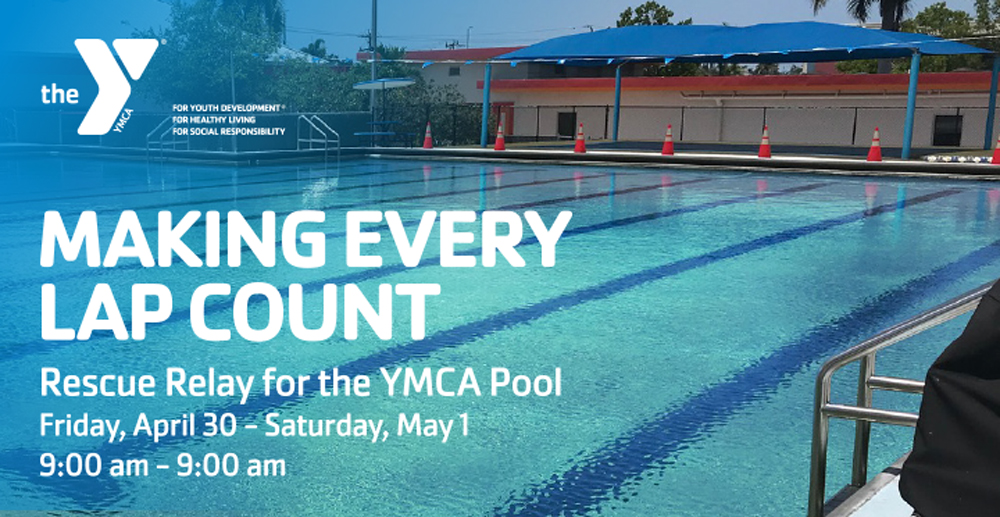 Rescue Relay for YMCA Pool Fundraiser
Join. Participate. Support!
---
We're hosting a 24-hour Rescue Relay for the YMCA pool on April 30th to kick-off a fundraising campaign for repairs and updates to our 52-year-old pool. During this event, participating swimmers will each swim for 30-minutes to an hour during an all night, twenty-four hour relay beginning at 9:00 am on April 30th and ending at 9:00 am on May 1st.
The YMCA pool has served the Naples community for over 50 years and has been the place where countless people have learned to swim, played and splashed during summer camp, learned scuba diving, exercised, competed in club or high school swimming and diving meets, or trained to save lives.
The aging pool needs a major refurbishment and we are asking for your help!
---
HOW TO PARTICPATE
This event is in 30 to 60 minute increments of lap swimming. Participants can view available time slots and sign up using the button below.

---
SUPPORT OUR CAMPAIGN
We're raising money to repair and refurbish the YMCA Pool by holding a 24 hour relay in the pool. Please donate to support our efforts!
We've included a few easy ways you can support us:
Donate online! Make a donation online here or using the form below .
Donate with a check! Make a donation via check. All checks need to be made out to the Greater Naples YMCA, MEMO: YMCA Pool.
Spread the word! Text a friend. Share our campaign on Facebook, Twitter and Instagram. Oh, and you can also just tell someone in person – that works, too.
Thank you for considering a donation to the Greater Naples YMCA.